Australia's largest range of portable room dividers and mobile partitions, now shipping direct to New Zealand.
Portable Partitions are Perfect for:
Learning environments that are active, cooperative and engaging serve to benefit teachers and students alike. A more flexible and adaptable classroom allows space to be tailored specifically to the purpose of each class.
[Read more]

Many businesses have the need for multi-purpose space to conduct additional meetings, training sessions training, run workshops offer break out areas, but simply do not have the space for each. Better use of existing space is therefore critical.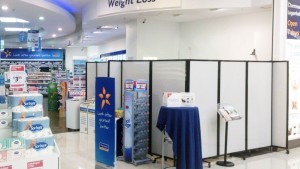 With the current trend towards a larger and more diversified service offering, far beyond that of the traditional product dispenser, pharmacies are facing an increasing need to adapt their current space to accommodate and capitalise.
Both the Australian healthcare and aged care industries face constant pressures created largely by an increasing aging population, causing strain on already over stretched facilities. Space is a premium and the demands to do more with less increases.
In today's society churches, mosques and synagogues are seen as more than just places of worship but as key focal community centres as well. Maximum space versatility and adaptability becomes critical to accommodate multiple function requirements.

With sports and leisure facilities now being utilised for multiple activities, multiple ages and multiple events – there is a real need for adaptable spaces to match these requirements. Space versatility and adaptability is therefore critical.
Large Acoustic Room Dividers
Acoustic Privacy Screens and Room Dividers
Economy Privacy Screens and Room Dividers
Outdoor Partitions and Screens
Barriers and Barricades
Why Choose Portable Room Dividers?
Flexible & Adaptable Space
Smarter use of existing space is becoming an increasingly common requirement, often on a budget. Our flexible and adaptable product configurations enables us to offer a solution for every project.
Save Time & Money
Avoid expensive, lengthy and disruptive permanent building works by considering cheaper temporary or semi-permanent solutions. Products to suit every budget, without the hassle.
Easy Set-Up
Most of our products ship fully assembled. Simply unbox and place into position. No need for professional building services or installers.
Why Choose Portable Partitions Australia?
Large Product Range
Australia's largest and most flexible product range. Multiple heights, lengths, finishes and colours available including custom designs.
Fast Shipping
All products are in stock and available to order directly through the website or via phone. The majority can be dispatched next day for delivery across Australia.
Australian Made
The majority of our products are manufactured, assembled and shipped directly from our Sydney factory ensuring the highest quality.